Do you see the hay bales and pumpkins? October is an extra special month at McCurley Integrity Dealerships because it is our 20th Annual Octoberfest Sales Drive. Last year you, our community, helped break the 1 million pound food mark for local food banks. This year we will build on that total!
Why Octoberfest?
Our mission has always been to give back to the community where we live and work. Octoberfest allows us to give back at a time when food banks need it the most. Usually, there is increased demand for food around the holidays, and our friends at the food banks anticipate this need this year even more than most.
How can we help?
We will donate on our customers' behalf for every vehicle purchased throughout October. You'll also notice our friends at the local area Yoke's Fresh Market have prepared $5 and $10 donation bags for purchase, and we will distribute these food bags at the end of the month. You can also bring in donations to any of the McCurley Integrity Dealerships locations.
Our customers and local partners make this a great place to live. Let's make this October great!
See the impact last year!
Your donations helped to fill the gaps during the holiday season! In 2020 this food helped more than ever as our local food banks saw up to 3x the need during Covid. Although the event happens in October, the food bank shelves are filled for the busy holiday season. We wanted to take a moment to thank your generous community and the local food banks that do so much for our community. Please check out these fantastic organizations for more ways to help. Tri-Cities Food Bank, The Salvation Army Tri Cities WA Social Service Center, Tri-City Union Gospel Mission, St Vincent de Paul Food Bank - Pasco, Blue Mountain Action Council
#Octoberfest
#TriCities
#McCurleyCare
Find "Many Hands Feed Many People" In Next Issue Of Taylored Living Magazine - Read The Article Here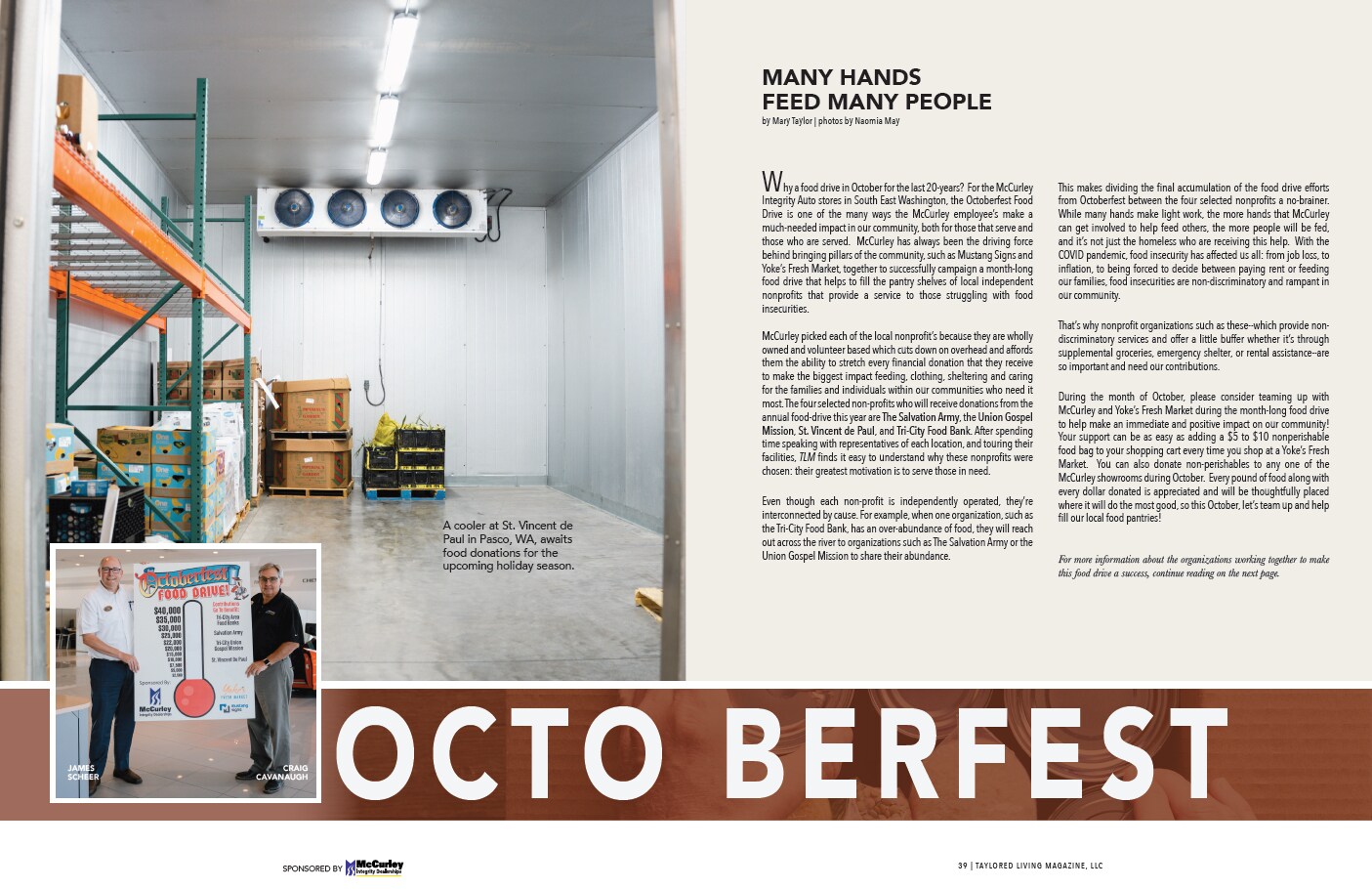 Make an Inquiry
Hours
Monday

Tuesday

Wednesday

Thursday

Friday

Saturday

Sunday
Directions
Get Directions