Mccurley Hometown Food Drive

Together we have donated over a million pounds of food over the past two decades. This year is different because the Hometown Food Drive is about One! We are three cities but one community. Food insecurity is lessened one meal at a time. One simple act of kindness makes a difference in our hometown. It's easy to help in a season where food demand is the highest. Purchase $5 or $10 Food bags at any local Tri-Cities Yoke's Fresh Markets. Or drop off non-perishable food items in any McCurley Dealerships showroom. Plus, all October, a portion of every vehicle sold equals a donation to our local food banks. Thank you to everyONE for helping provide food to our friends and neighbors.
During the month of October, McCurley Dealerships of Tri-Cities and Yakima Washington will accept donated non-perishable food items. All non-perishable items can be brought to any of the McCurley Dealerships in South East and Central Washington and placed in the showroom donation vehicle between the hours of 9:00 AM & 7:00 PM.
The Hometown Food Bank drive donation goal of $40,000 during this month-long drive will be a result of dollars raised through all vehicle sales at every McCurley Dealership locations for the 31-day period. All monetary funds from vehicle sales will be donated on November 17, 2022, for the purchase of the much-needed non-perishable food items for the above select area food banks.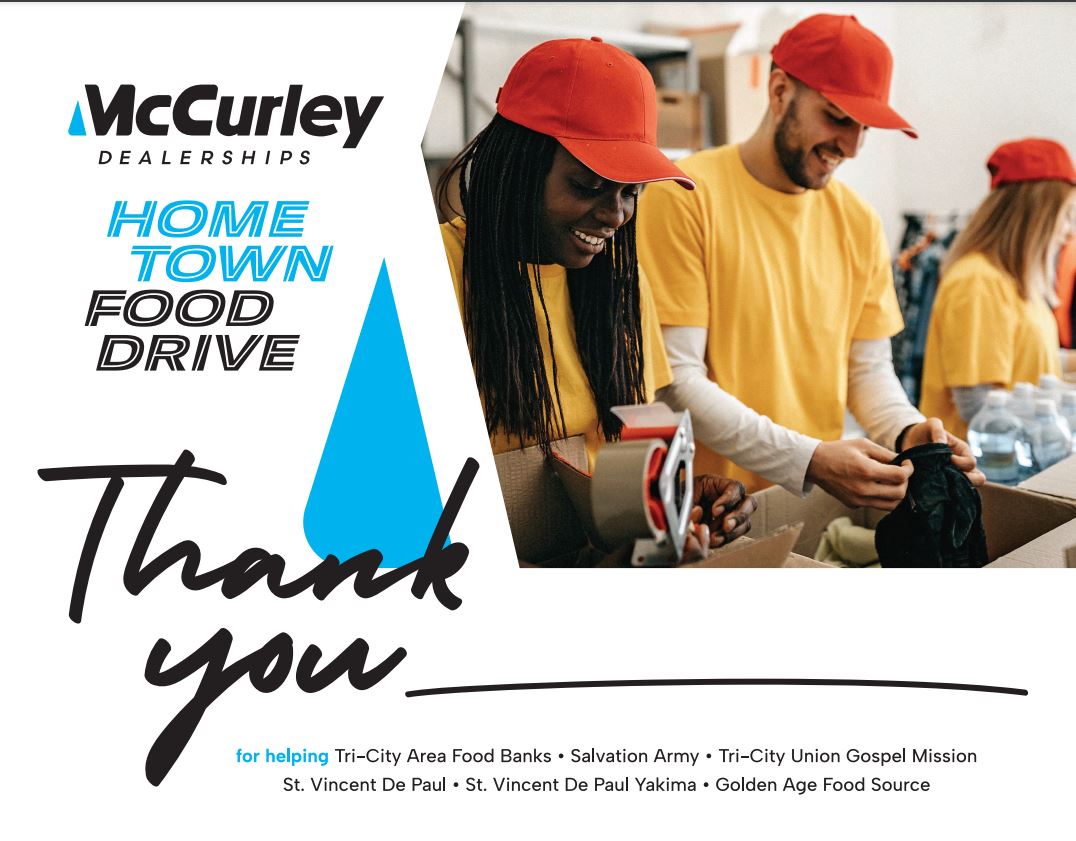 During this month of October, patrons of any Yoke's Fresh Market store can pick-up a $5 or $10 dollar prepacked "Food-Drive-Bag" just prior to check-out. This donated "Food Bag" can be placed in the donation bin after check-out before leaving the store. The Yoke's customer food bags will be collected and delivered to all local area food banks at the end of the drive in November along with all of the McCurley Dealerships purchased food items.
Donations from area Yoke's Market customers have been estimated to exceed 158,135 pounds during this 20-year annual food drive, bringing the total Yokes customer and McCurley purchased non-perishable food items during these food drives to approximately 1,040,235 pounds of non-perishable donations to the select area food banks. Items purchased for area food banks include cereals, pasta, ready to eat items like chili, stew, ravioli. Canned vegetables and fruit, tuna, peanut butter, as well as holiday items like yams, cranberries, stuffing mix, gravy, etc. The area food banks place orders based on needs for the months of November, December, and January.
---