Welcome to McCurley Wholesale Parts
Parts . Fast . Easy

509-547-7924 or 1-800-456-6257
Need help signing-up? Email: David.Keller@McCurley.net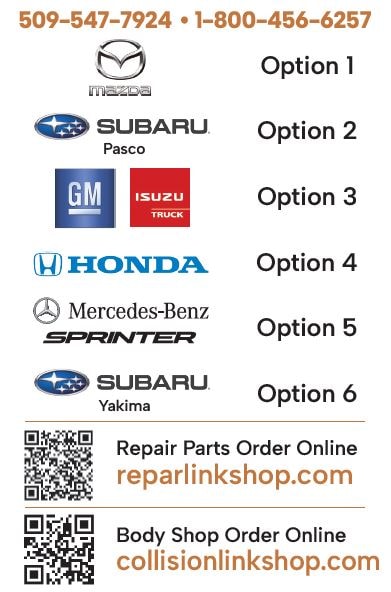 Who we are:
We are your parts professionals that will get you Autobody, Repair Shop, Farm, Business, or Organization the parts you need on time. 
Where do we do business? 
We definitely serve the greater Tri-Cities, but you can expect the same service in Yakima, Moses Lake, Othello, Walla Walla, Hermiston, Pendleton, and surrounding areas.   
What about delivery?
Delivery is free and the timing is excellent. Most dealerships can provide overnight delivery on next day orders. Most of our orders we can get you the same day or the next day. Other parts may take 2 to 3 business days, but we are here to make things fast and easy so never hesitate to give us a call. 
Out of town deliveries leave at noon. Our delivery hours are 8am-5pm, but we have Hot Shot delivery to get you urgent parts super fast. 
How do I order? 
Most orders are done online with 24/7 availability. For repair parts we use repairlinkshop.com and for collisionlinkshop.com or cccis.com. You can always call 509-547-7924 or 1-800-456-6257. Our hours are 7:30 am to 5:30 pm. 
Need to Sign-Up For Repair or Collision Link? Email: David.Keller@McCurley.net
What types of parts do you carry? 
Our parts range from General Motors, Honda, Mazda, Mercedes-Benz, Sprinter, and Subaru. Don't hesitate to reach out if you don't see what you are looking for.